PCD Pharma Franchise – Alicanto Drugs : An ISO, WHO & GMP Certified company offering premium quality of pharmaceutical products all over the India. Established in Chandigarh India, Alicanto Drugs Pvt Ltd is giving district wise PCD Pharma Franchise. Assures fast and smooth delivery of goods. We are marketing more than 1000+ brands throughout the India.
What is PCD Pharma?
First of all let us try to know what is PCD Pharma? PCD stands for "Propaganda cum Distribution". The term of PCD is used for marketing and distribution rights in the pharma industries. Anyone who has complete documents can become a franchisee of Allopathic PCD Pharma Company.
Advantage of PCD Pharma Company
One of the major advantages of PCD Pharma company is their ability to cater to the needs of small and medium-sized businesses. These companies are ideal for entrepreneurs who want to start their own pharmaceutical business but lack the resources and expertise required to develop their own products.

PCD Pharma companies offer a range of products, including tablets, capsules, injections, syrups, and ointments, which can be marketed under their brand name.
PCD Pharma company also offer marketing and promotional support to their partners. This includes product promotion, medical representative training, and advertising support. This allows small-scale pharmaceutical manufacturers to focus on product development while leaving the marketing and distribution to the PCD Pharma companies.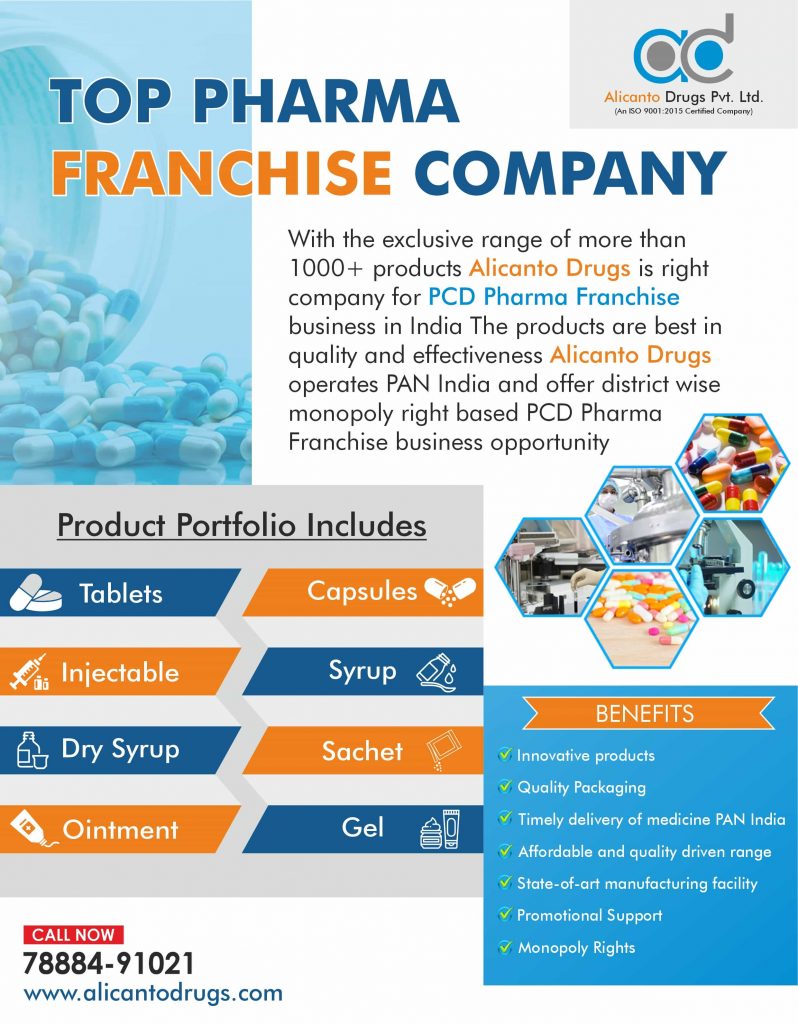 Benefits of PCD Pharma Franchise Company
Before getting involved in the list of top PCD pharma company in Pharmaceutical marketing, we all must be aware of the benefits of these companies. PCD is Propaganda cum Distribution. The term is used for distribution and marketing rights.

The pharma companies that give the distribution and marketing rights to a person are known as PCD pharma Franchise Company. There are several benefits of taking the franchise of these companies.
* Huge profit in a less time
* Great ROI
* No need to invest a large amount for starting the business
* Monopoly rights
* Wide range of products that increase the chances of sales
* Free promotional material
PCD Pharma Company In India
Alicanto Drugs is one of the best PCD Pharma company in India. PCD Basically stands for Propaganda cum Distribution. In PCD ,anyone who possess a basic knowledge of pharma sector can start this business with small investment. This business does not required to invest huge capital.

If MR's, doctors , retailers & wholesalers wants to start business in Pharma, they can take PCD franchise from our company. In PCD you will get the ready stock of a huge product range which you can get prescribed from your doctors on regular basis keeping high margins.
Services Providing Area:
| | |
| --- | --- |
| Pharma PCD Franchise in Andhra Pradesh | Pharma Franchise in Assam |
| Pharma Franchise in Bihar | Pharma Franchise in Tamil Nadu |
| Pharma Franchise in Chhattisgarh | Pharma Franchise in Telangana |
| Pharma Franchise in Jharkhand | Pharma Franchise in Uttarakhand |
| Pharma Franchise in Karnataka | Pharma Franchise in Uttar Pradesh |
| Pharma Franchise in Kerala | Pharma Franchise in West Bengal |
| Pharma Franchise in Madhya Pradesh | Pharma Franchise in Chandigarh |
| Pharma Franchise in Maharashtra | Pharma Franchise in Punjab |
| Pharma Franchise in Manipur | Pharma Franchise in Himachal Pradesh |
| Pharma Franchise in Mizoram | Pharma Franchise in Haryana |
| Pharma Franchise in Nagaland | Pharma Franchise in India |
| Pharma Franchise in Odisha | Pharma Franchise in Chandigarh |
| Pharma Franchise in Rajasthan | Pharma Franchise in Sikkim |
Conclusion:
Alicanto Drugs is the Best PCD franchise company in India the pharmaceutical sector. The reason being best in this field is the ISO GMP Certification with the company, wide range of products, extensive market reach, expert management, promotional & marketing materials for business partners and customers.
Future of PCD Pharma Franchise in India
As all of us know that the Indian pharmaceutical industry is growing very fast, with a CAGR of 14%.So the investment in the pharma industry is the most lucrative option for us. Various pharma companies work on the model of PCD pharma franchise and this is going to be highly profitable as per the stats of various pharma experts.
In today's time, the safest industry is the pharma industry and opportunities are too much with low investment. Many of us even don't know what is a PCD pharma franchise & PCD actually mean. PCD means propaganda cum distribution model in which companies provide monopoly rights to individuals for a particular area to promote & sell the products of the company.
Many companies are offering the PCD Franchise but the best company to work with is Alicanto Drugs and the company evolved the best while offering PCD in India. So the future of PCD Franchise in India is very bright.
For more details contact us:
Alicanto Drugs
Address: Plot No-159, Industrial Area Phase 2, Panchkula (Haryana)
Pin code-134113
Contact person: Ritika Ahuza (General Manager), 7717514041
Contact person: Atin Arora (Director), 7888491021
Email: alicantodrugs@gmail.com
Website: https://www.alicantodrugs.com/