Pharma PCD Franchise in Madhya Pradesh- With the rich industrial experience and knowledge, Alicanto Drugs has come up with the franchise opportunity for people, who live in Madhya Pradesh. We are the ISO Certified Company and ideal for taking the franchise. Our company has good recognization in the market. People rely can on us for getting quality drugs at reasonable prices. By providing the best Pharma PCD Franchise in Madhya Pradesh, we aim to improve the health of the people by securing a healthy environment.
Madhya Pradesh is fondly called the 'heart of India', remains stuck in messy health issues. In order to make healthcare more accessible, Alicanto Drugs is providing the this opportunity to all for increasing the awareness using the best quality medicines making them available at low costs. The company is equipped with a wide distribution channel and thus we can deliver the products in all the areas of MP. If you are a Pharma expert, wholesaler, distributor, stockiest or retailer then join top Pharma PCD Franchise in Madhya Pradesh.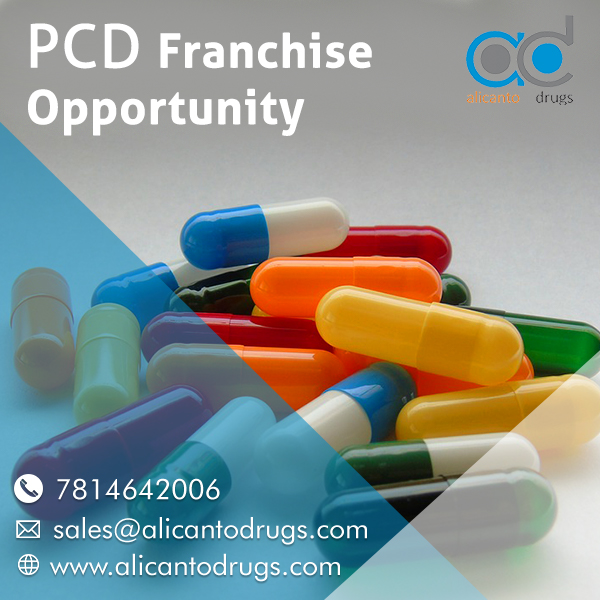 We are recognized as the top pharma compan which is providing the PCD Pharma Franchise in all top cities of Madhya Pradesh like Bhopal, Indore, Gwalior, Sagar, Jabalpur, Rewa, Chambal, etc. So if you want our PCD Franchise in Madhya Pradesh then feel free to call us at 7814642006 or you can also email us sales@alicantodrugs.com.
Profitable Opportunity of PCD Franchise in Madhya Pradesh
Alicanto Drugs is a reputed and esteemed company handled by professionals and experts who are a genius in pharmaceuticals and the medical field. We are offering 100+ products covering all formulation and area. Also, we have installed the latest and advanced machines to formulate our range as per the industrial standards. Moreover, we see a potential in the state of Madhya Pradesh for leading a successful Pharmaceutical Business. This is because the Pharmaceutical Industry has been progressing at a fast rate.
We are the largest provider of generic drugs on the global level.
India is the provider of 20% of all drugs in the world in terms of volume.
And, the Pharmaceutical Industry has been witnessing a growth at a CAGR of about 22.4%.
Also, the monetary value of our industry is estimated to reach about US$ 55 billion in the year 2025.
Advantages of Uniting with Alicanto for PCD Franchise
Pharma Franchise business comes with the number of benefits which is attracting the number of investors to consider this as a good platform for business. To expand the PCD franchise business all over M.P, we are on a mission to provide the best possible advantages to all the partners associated with us.  The benefits of investing in Pharma Franchise business are listed below:
You can be your boss; your income is in your hand.
More profit as the business is set up and products are made available at subsidized prices.
Less investment required which means less risk
Best self-employment opportunity to grow in the future.
No pressurized workload.
This particular business sector has great potential to make you a sucessful enterpreneur of pharmaceutical sector.
Factors that make us Pioneers for Franchise in Madhya Pradesh
There are a lot of things that Alicanto Drugs does right. We are the leaders in producing an impeccable and flawless line of medicines that cater to all the requirements of our patients in Pan India. Here is a list of parameters that have led to our massive success in the Pharmaceutical industry.
We are a dynamic and spirited company that has well-qualified experts and professionals from all over the world.
Our Company offer a variety of superior products and services to meet the needs of our customers.
We believe in creativity and customer satisfaction by trying to fill their requirements.
All products are excised duty-free.
The reasonable pricing policy is set by us.
Highly effective and innovative products are delivered from our end.
Being an ISO certified firm we deliver the WHO and GMP certified products.
Quality control guidelines are followed by the company.
Required Criteria to Take Ownership of a Pharma Franchise 
Alicanto Drugs is looking for individuals and associations of individuals who can successfully become a part of our Top PCD Pharma Franchise Company in the Madhya Pradesh region. We need dedicated, spirited and hard-working individuals. Before we start, please read the eligibility criteria to become our associate:
You must have experience of 3 to 4 years working in a pharmacy company or small business.
All the Experience documents like sales report etc are to be submitted in the office.
Should be self -independent to perform duties.
Know trade terminologies like profit margin, profit, and loss, etc.
Education of minimum or equivalent to graduation.
A registered pharmacist under the State Pharmacy Council can also apply.
A valid Drug License No. (D.L.) Number and Tax Identification Number (TIN) are compulsory.
Good contacts and a network of doctors are intended.
Our company will provide you with support from our end. So, you can easily start up the business in the most efficient manner. There are lots of potential supports that we provide to our esteemed customers in Madhya Pradesh.
Invest in Top Franchise in Madhya Pradesh in Various Districts
Here in Madhya Pradesh, we are looking to invest all our resources to the betterment of the state's healthcare. Here are all the districts we want to be doing business in:
Bhopal
Chambal
Gwalior
Indore
Jabalpur
Narmadapuram
Rewa
Sagar
Shahdol
Balaghat
Shivpuri
Mandsaur
Khargone
These are the reasons which make us popular and reliable in the competitive market. Our company is accomplishing and very professional in every aspect. Collaborating with us for the PCD Pharma Franchise in Madhya Pradesh is the best available option for you. So you can come up and ask us for suitable business plans.
Contact Us
Name-Alicanto Drugs
Address– Plot No-159, Industrial Area Phase 2, Panchkula, Haryana Pin Code- 134113
Phone Number– 7814642006
Email– sales@alicantodrugs.com