Pharma PCD Franchise in Jharkhand- Jharkhand is famously called as "the land of Forest". This means all the Raw material used in the manufacturing of Medicines is 100% pure. Moreover, it consists of the maximum numbers of plants, chemical hubs, and other units that are globally famous for its maximum performance and minimum time frame. By setting up a Pharma PCD Franchise in Jharkhand, you would surely get the good returns. If you want to set up your firm then do not miss the opportunity. Join hands with the Alicanto Drugs, we are the prominent firm and have sound knowledge about this particular business sector.
Being a top Pharma Franchise Company for business in the pharmaceutical sector, Alicanto Drugs understands what associates need. Through our WHO and GMP certification, we guarantee our business partners with the highest and purest quality standards. Our more than 200+ products are accepted by customers and we are looking forward to making it available to a maximum number of people. Thus, Alicanto Drugs is offering its best  Pharma PCD Franchise in Jharkhand.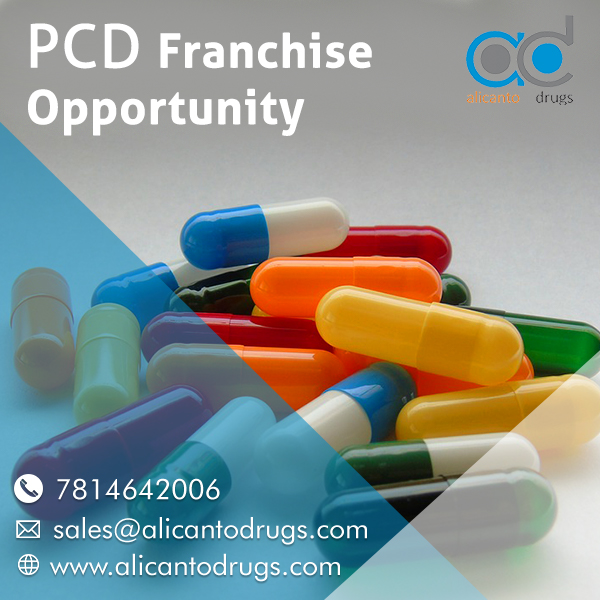 We invite you to get our Pharma Franchise in your city and enjoy the monopoly rights. For more details regarding the franchise by Alicanto Drugs, you can call us at 7814642006 and even you can drop us an email at sales@alicantodrugs.com. It is a great business opportunity in Jharkhand. You can opt for it to start up your own business.
Start up your PCD Franchise Career With Alicanto Drugs
Alicanto Drugs is one of the leading Pharma Company in India, offering an excellent quality range of products to clients. The company has the potential to manufacture rich quality of drugs. Our Pharma Franchise is spread all over India. If you are planning to set up a business in this particular sector then choosing Alicanto Drugs would be the best option for you. Our company is open to discuss its business plan with you along with our price quotation. We accept all criticism and always work on perfecting our medicine range
Introducing an Opportunity to Take Pharma PCD Franchise in Jharkhand
We see a lot of potential in the state of Jharkhand. This is because, it has been performing exceptionally well in the Industrial Market front. This business could be a very profitable for the people of Jharkhand. Here are some facts that suggest the same.
In the span of just 8 years, the state attracted FDI Inflows worth US$ 113 million.
While the total exports from the state were estimated at a value of about US$ 1116.53 million.
The GDSP growth of the state has been at about 10.16% over the past few years.
Jharkhand's economic growth is driven by the strong performance of
industrial sectors such as tourism and pharmaceuticals.
Advantages of Investing with the Right PCD Franchise Company in Jharkhand
Numerous reasons make us the best amongst other leading Pharma Franchise. Our company is known for the formulation of products like Tablets, Capsules, Injections, etc. Join hands with the top PCD Pharma Franchise Company in Ranchi to set up your business successfully. Following are the reasons that add to the value of our company:
Our company is an ISO certified company
We have vast manufacturing units at our premises.
We provide our services at pocket-friendly prices.
Backed by leading professionals, who are specialized in their field.
Top Locations for Monopoly-Based PCD Pharma Franchise in Jharkhand 
Our company provides you unique monopoly rights of the wide region of Jharkhand. These rights will help you to easily showcase your potential medicine and service to yours. With our PCD Franchise Company in Ranchi, we will able to create jobs for all. Here is the list of our target location where we are providing our monopoly rights:
Ranchi: Ranchi is the capital of Jharkhand and is the most popular industrialised city in India. Therefore, we are sure that the Pharmaceutical Business in this area will thrive. 
Jamshedpur: With a population of more than 13.4 lakhs, this area has gained much recognition for Pharmaceutica development and thus makes for a great destination for this business.
Dhanbad
Bokaro
Deoghar
Phusro
Hazaribagh 
Giridih
Ramgarh
Hazaribag
Jamtara
Khunti
Koderma
Pakur
Palamu
Therefore, contact us today to avail this business opportunity in Jharkhand.
Terms and Conditions for Starting the Pharma PCD Franchise Business
There are some set of rules and regulations to set up any firm. If you are serious about taking up a Pharma franchise firm then you have thoroughly follows the set eligibility criteria as prescribed by the industry. So read the below-mentioned guidelines before taking up such firm:
Make sure that you have 3 to 4 years of working experience in selling Pharma products
Before making any decision, you must do some research about the Company
Keep the valid drug license and TIN Number before entering into this business domain
Ensure that you have completed 12th or graduation from any recognized board or university
Make sure that you have enough investment to invest while taking the Pharma franchise firm.
Therefore with our PCD Franchise Company in Ranchi, you will be able to have a very profitable chance at a thriving business.
Support Offered By Our PCD Franchise Company in Jharkhand 
We make sure that our business partners get good growth in the market so that they can do well in the Pharma sector. For helping in the franchise business expansion we offer numerous valued services. The best part is we do not charge any extra cost on our services. Here is the list of our services-
Attractive Promotional and marketing support
Monopoly rights 
Same day dispatching of all booked orders
24*7 customer support
A wide medicine range 
Good profit on each product
Cool incentives schemes.
We are targeting all vacant region of Jharkhand for the Pharma franchise opportunity. Alicanto Drugs is not only providing quality medicine but also provide good growth opportunities for our business partners.
Contact Us
We have opted the most reliable communication source to provide the best assistance to customers. 
Name-Alicanto Drugs
Address– Plot No-159, Industrial Area Phase 2, Panchkula, Haryana Pin Code- 134113
 Phone Number– 7814642006
Email– sales@alicantodrugs.com