Dengue (DENG-GEY) fever is a mosquito-borne illness that occurs in tropical and subtropical areas of the world. Mild dengue fever causes a high fever and flu-like symptoms. Those who become infected with the virus a second time are at a significantly greater risk of developing severe disease. The severe form of dengue fever, also called dengue hemorrhagic fever, can cause serious bleeding, a sudden drop in blood pressure (shock) and death. Research estimates that nearly 400 million people get infected with dengue each year, but most (about 80%) have no symptoms.
Symptoms of Dengue Fever
Symptoms, which usually begin four to six days after infection and last for up to 10 days, may include:
• Sudden, high fever (105 degree)
• Severe headaches
• Pain behind the eyes
• Severe joint and muscle pain
• Fatigue
• Nausea
• Vomiting
• Diarrhoea
• Skin rash, which appears two to five days after the onset of fever
• Mild bleeding (such a nose bleed, bleeding gums, or easy bruising)
• Sometimes, dengue fever symptoms are mild and can be mistaken for those of the flu or another viral infection. Younger children and people who have never had the infection before tend to have milder cases than older children and adults.
However, serious problems can develop. These include dengue hemorrhagic fever, a rare complication characterized by high fever, damage to lymph and blood vessels, bleeding from the nose and gums, enlargement of the liver, and failure of the circulatory system. The symptoms may progress to massive bleeding, shock, and death. This is called dengue shock syndrome (DSS).

Dengue fever is caused by one of four dengue viruses (DENV). Transmission of these viruses to humans happens through the bites of an infected mosquito. The most common types of mosquitoes responsible for spreading dengue fever are Aedes aegypti and Aedes albopictus mosquitoes.
Causes of Dengue Fever
These mosquitoes are widely found in tropical and subtropical regions, including Southeast Asia, the western Pacific islands, Latin America, and Africa. When an infected mosquito bites a person, the virus initially enters the bloodstream, targets the liver, and then propagates to other organs. It replicates there and impairs the liver's functioning, accumulating toxins in the blood, resulting in fever, muscle pain, headache, and rash. If not managed, its severity may cause liver failure.
Doctors can diagnose dengue infection with a blood test to check for the virus or antibodies to it. If you become sick after travelling or living near to people those already having dengue infection, let your doctor know. This will allow your doctor to evaluate the possibility that your symptoms were caused by a dengue infection.

Doctors may suggest a combination of blood tests and imaging tests to diagnose dengue fever infection, because the body's immune response to the virus is complex and dynamic. The dengue infection is difficult to diagnose without laboratory and radiology tests because initially symptoms may be the same as other diseases, such as malaria. Tests may include:
Diagnosis of Dengue Fever
• Complete blood count – to check the platelet count typical of the later stages of the illness and to detect the decrease in hematocrit, hemoglobin, and red blood cell (RBC) count (evidence of anemia) that would occur with blood loss associated with severe dengue fever.

• Dengue Serology Test (Dengue IgG & IgM) – to detect antibodies produced by the immune system when a person has been exposed to the virus; these tests are most effective when performed at least 4 days after exposure in both primary and secondary infections.
• Dengue Virus Antigen Detection (NS1) – to confirm Dengue viral infection. This test is useful to diagnose early dengue infection and can be conducted within 1-2 days following Dengue infection.
Brands to Fight against Dengue
Carican Tablet – Carica Papaya Leaf Extract 1100 mg, Tinospora cordifolia, Goat milk powder and Vitamin E
Dengue Care Syrup – Papita 350mg, Giloy 350mg, Kalmegh 350mg, Chirayata 350mg, Tulsi 300mg, Pittpadra 300mg, Neem 300mg,Ashwagandha 200mg.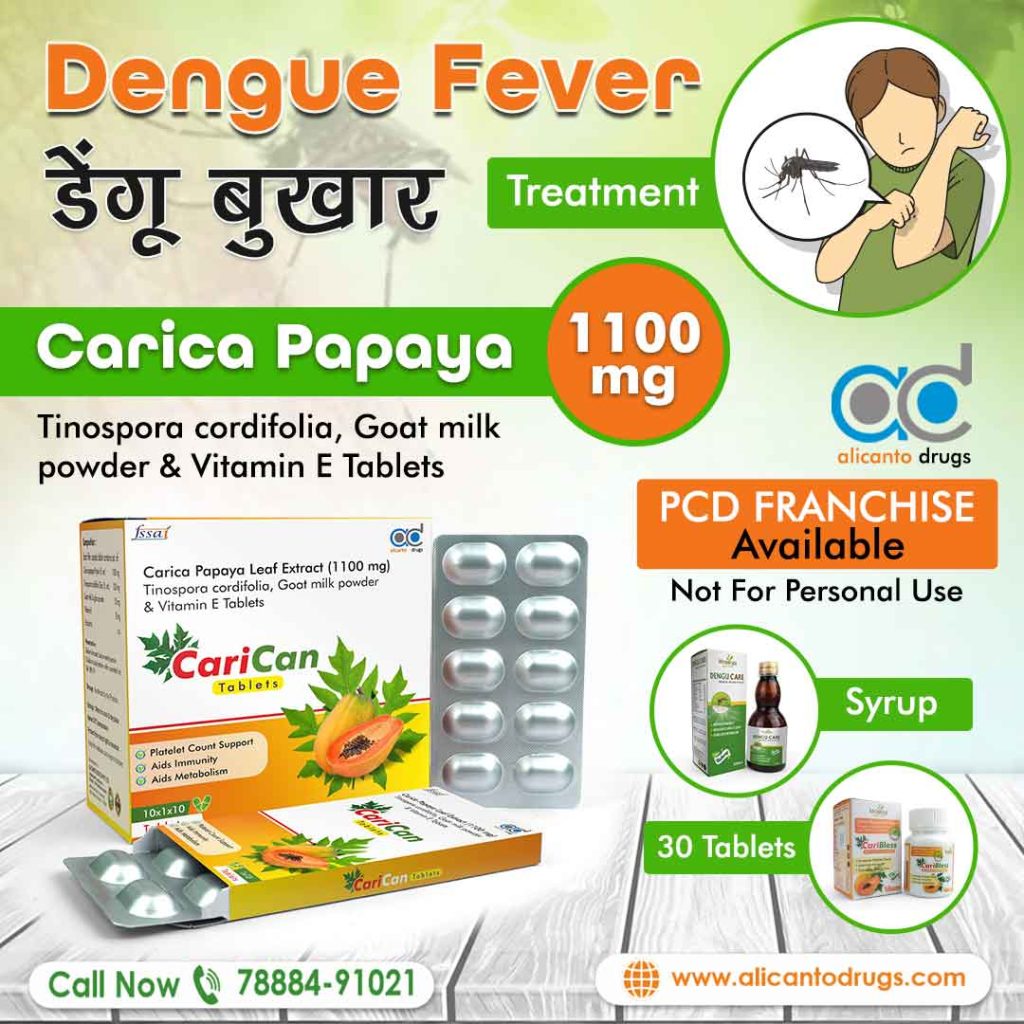 Role of key ingredients :
Carica papaya extract contains the enzyme papain. Papaya leaf is used to increase low blood platelet count in Dengue fever and Chikungunya. Tinospora cordifolia plant is used as a medicine to improve the immune system and body's resistance against infections. Vitamin E confers occlusive and emollient effects to keep the skin moisturized. Its anti-oxidizing properties helps in healing sun burns and irritation of the skin.
About Us:
Alicanto Drugs Pvt. Ltd. is one of the most reputed PCD Pharma Franchise Company in India. With the best quality & services, company is growing with fast pace. We have launched some of the unique ayurvedic formulations. We have our own WHO-GMP, ISO & Ayush certified plant. In Allopathic we have 7 divisions consisting gynae, derma, cardiac/diabetic, injectables & Pediatric range.
Along with this we are having products range to fight against the Dengue like Carican Tablet which is combination of Carica Papaya Leaf Extract 1100 mg, Tinospora cordifolia, Goat milk powder and Vitamin E ,also we are having syrup in ayurvedic formulations with the brand name of Dengue Care which is composed of Papita 350mg, Giloy 350mg, Kalmegh 350mg, Chirayata 350mg, Tulsi 300mg, Pittpadra 300mg, Neem 300mg, Ashwagandha 200mg.
For more details contact us:
Alicanto Drugs
Address: Plot No-159, Industrial Area Phase 2, Panchkula (Haryana)
Pin code-134113
Contact person: Atin Arora (Director)
Call or Whatsapp Us: 7888491021
Email: alicantodrugs@gmail.com
Website: https://www.alicantodrugs.com