Pharma Franchise Opportunity In Rajasthan:
Rajasthan is a big state, and there are several pharma companies out there. Most of these companies are manufacturing pharma products and are also known to provide the pharma franchise to their partners. PCD franchise companies are getting popular day by day, and this is due to the rise in demand for pharma products. The PCD Franchise business is one of the best and is backed up by reputed pharma companies. The business gives you the opportunity to be your own boss and earn huge profits in less time.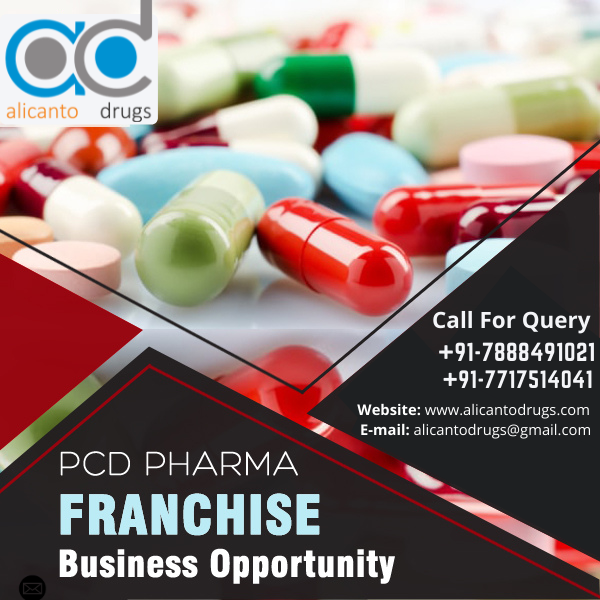 In this article, we have mentioned the list of the best pharma franchise companies list in Rajasthan. If you want to start a business in the pharma industry, then you can contact them. 
Best Pharma Franchise Companies List In Rajasthan
Alicanto Drugs
One of the oldest and the reputed firm providing the pharma franchise opportunity in Rajasthan is Alicanto Drugs. The company is in this business for last many years and has benefited thousands of people with its franchise opportunities. The company has several products that are manufactured under the guidance of experienced persons and researchers. The company's specialization is in oral syrups, liquids, gels, powders, tablet, capsules and injections. The list of medicines and products cover more than 100+ formulation. The company has a wide range of ayurvedic medicines and products too. Every single product is made using the best technology. The medicines by the company are made with high-quality products and procedures. The demand for the company's products has made it to the best pharma franchise companies list in Rajasthan. For details, you can contact below.
Address: Plot No-159, Industrial Area Phase 2, Panchkula (Haryana)
Contact Details: 7717514041 & 7888491021
Atishya Biotech
Another name that comes in the pharma franchise companies list is Atishya Biotech. The company manufactures pharma products and also gives the franchise to people. The firm is known to provide the monopoly PCD business with various plans. It is an ISO 9001:2008 certified company and has a wide range of pharma products.
Address: 185, Mahaveer Nagar II, Maharani Farm, Durgapura, Jaipur
Contact: 99283 66261, 80487 45701
Biogem Healthcare
Another name on the Pharma Franchise Companies List in Rajasthan is Biogem Healthcare. The company is situated in Jaipur city and o0ffers the best range of medicines and pharma products. The company has several medicinal products in its portfolio, and all the products are made using the best ingredients. It is an ISO 9001:2008 company and offers a pharma franchise opportunity in Rajasthan. For more details contact on the address below
Address: No – 206 Ocean Tower, Chandpole, Jhotwara Road Jaipur – 302002, Rajasthan, India, Jaipur, Rajasthan
Contact: 9829083008
Above, we have mentioned the details of the companies that provide the pharma franchise opportunity in Rajasthan. These companies are one of the top pharma companies in the state. These are not only the companies but there are many more. If you search for the pharma franchise company list in Rajasthan, you will see an extensive list.
A Wrap Up
Starting a business with the pharma companies by taking a franchise can give you a lot of benefits. This is the only business that will provide you with many opportunities and a massive return on investment. The best part is that you need to invest more to start a pharma franchise. You can start this business with a small amount. Isn't it good? Another positive point regarding this business is that you will be your own boss and you can work according to yourself. There is massive growth in this sector and if you are planning to start this business, then go for it.
So based on market response and market analysis Alicanto Drugs is the best to start the PCD Pharma Franchise business. For more details we are available on:
Alicanto Drugs- Best PCD Pharma Franchise Company in India
Address: Plot No-159, Industrial Area Phase 2, Panchkula (Haryana)
Pin code-134113
Contact person: Ritika Ahuza (General Manager), 7717514041
Contact person: Atin Arora (Director), 7888491021