Professional Company for Antibiotic Medicine PCD Franchise In India – Start Your Own Pharmaceutical Franchise with Us
Antibiotic medicines, often simply referred to as antibiotics, are a class of drugs used to treat bacterial infections. They work by either killing the bacteria causing the infection or inhibiting their growth and reproduction. Alicanto Drugs Professional Company for Antibiotic Medicine PCD Franchise In India. Antibiotics are a crucial tool in modern medicine for fighting bacterial infections and saving lives. Here are some key points about antibiotic medicines:
Bacterial Infections: Antibiotics are specifically designed to target bacterial infections. They are not effective against viral infections like the common cold or flu.
Classes of Antibiotics: Antibiotics are categorized into various classes based on their chemical structure and mechanism of action. Some common classes include penicillin's, cephalosporins, tetracyclines, macrolides, fluoroquinolones, and sulfonamides.
Dosage and Duration: Proper dosage and completing the full course of antibiotics as prescribed are important to ensure that the infection is fully treated and to prevent the development of antibiotic-resistant bacteria.
Antibiotic Resistance: Overuse and misuse of these medicines can lead to the development of antibiotic-resistant bacteria. This makes infections harder to treat and is a significant global health concern.
Combination Therapy: In some cases, multiple antibiotics are prescribed together for more effective treatment, especially in severe infections or cases where the exact bacteria causing the infection are unknown.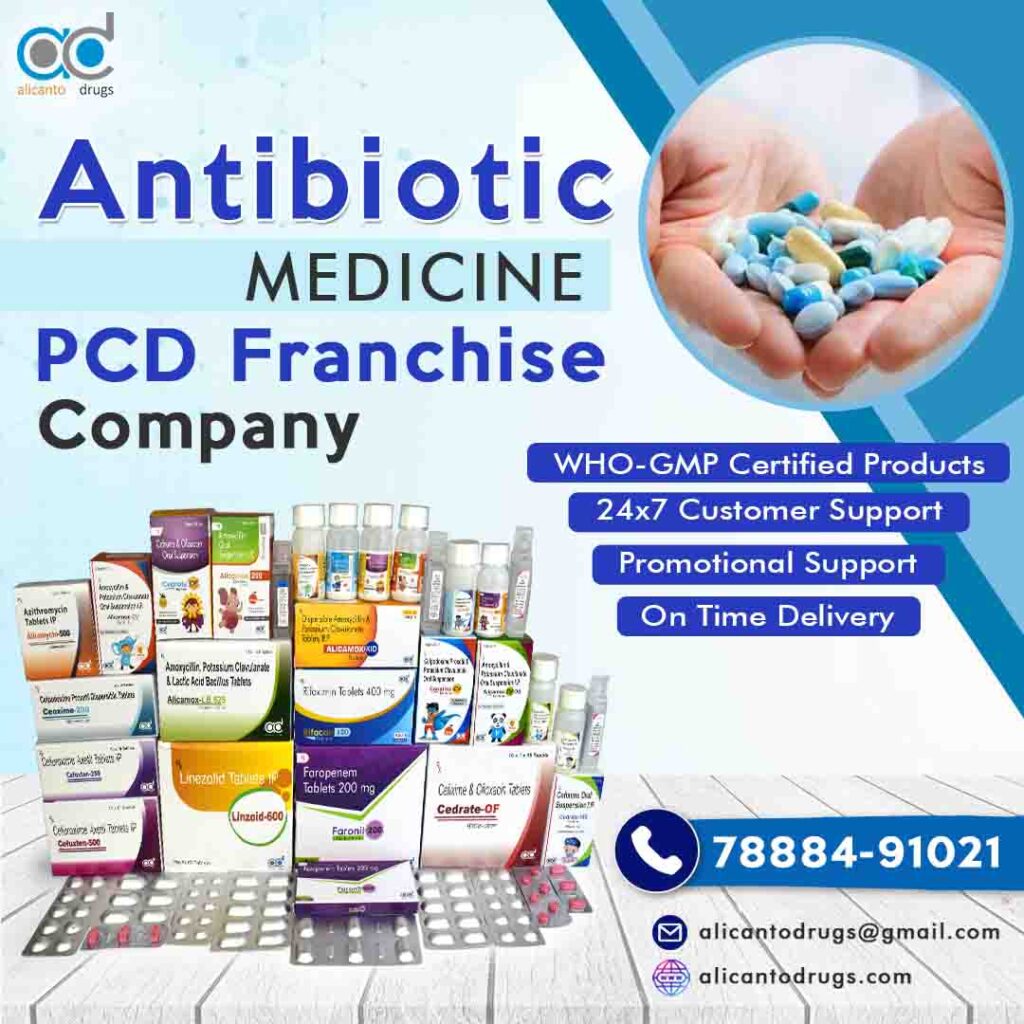 Antibiotic PCD Franchise Company in India
Since antibiotics fall under the category of common medicine, demand for them never decreases. This medication selection is available in any chemist shop in India. This is the rationale behind the proliferation of businesses that serve as manufacturers, suppliers, and PCD pharma franchises for the antibiotic product line.
Alicanto Drugs Pvt Ltd – Best Antibiotics Medicine Franchise Company
Alicanto Drugs is the Top PCD Franchise Company in Antibiotic Medicine. It provides profitable and real business chances. It is known in the market for utilizing premium raw resources to produce products of excellent quality. People have access to the whole product line, which includes pills, tablets, injectables, sachets, ointments, etc. Join together with Alicanto Drugs to reap a number of advantages related to the antibacterial medicine industry.
Select an Antibiotic Medicine PCD Franchise Company that provides excellent discounts and successful commercial chances.
Company with ISO Certification
Availability of Products at Affordable Prices
Being the leading Antibiotic PCD Company our company is happily working with below categories of customers.
Distributors
Retailers
Doctors
Medical representatives
Wholesalers with good contacts
The product range in antibiotics is quite diverse, as antibiotics come in various classes and formulations to treat different types of bacterial infections. Here are some common types of antibiotics and their examples within each class:
• Penicillins:
Amoxicillin
Piperacillin
• Cephalosporins:
Ceftriaxone
Cefuroxime
• Tetracyclines:
Doxycycline
• Fluoroquinolones:
Ciprofloxacin
Levofloxacin
Moxifloxacin
• Oxazolidinones:
Linezolid
For more details contact us:
Alicanto Drugs
Address: Plot No-159, Industrial Area Phase 2, Panchkula (Haryana)
Pin code-134113
Contact person: Atin Arora (Director)
Call or Whatsapp Us: 7888491021
Email: alicantodrugs@gmail.com
Website: https://www.alicantodrugs.com